Happy Birthday, Mom!!!
<3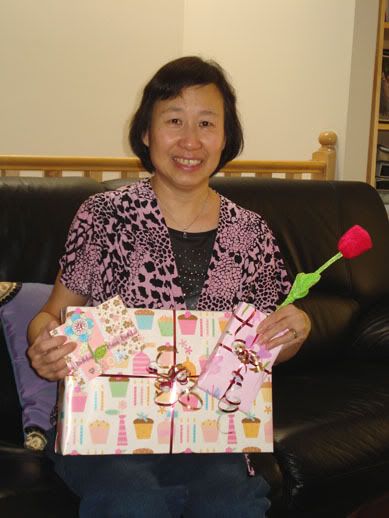 Last year, my brothers and I bought my mom a spa package that included a massage, manicure, and a pedicure. We drove around Richmond to find the best and affordable spa for mom. I thought it was best gift for her! Unfortunately, that gift was
epic fail
. She said she didn't like this kind of "stuff" and that we don't know her at all. I was quite upset and I'm sure she was too =*(
But not to worry! This year we redeemed ourselves! First, we went out to a lovely all you can eat sushi, mom's favourite!
That's five points for us
. Second, my brothers and I got her a leather wallet from Fossil.
That's twenty points, but minus five points for not buying her a cake
. Lastly, Dad bought her a really cute Coach purse! That's like one billion points for my dad!
I heart my mom.
She wakes up the same time as me just to make me breakfast and drive me to the skytrain.

She likes to shop and watch dramas, just like me.

She knows when not to bother me when I'm not in a good mood.

She cooks according to what we like: broccolis for brothers and the only stem for me =)

And, she nags here and there...just like all moms =D

I made this card just for her. It doesn't look like it, but it took me about two hours. Measuring took the longest because I want this card to be perfect!